10 July 2006
Sad news - Tony Mills Says Goodbye to SHY to focus all his time with TNT.
16 May 2006
Tony Mills Officially joins TNT
20 April 2006
Tony is going to be in a show called "Rose" in aid of Cancer Relief.
Rose is a lady who goes through the traumas of cancer and the production spans her entire life through three husbands and the illness and the story of all that it encapsulates.
Tony plays the nasty third husband with the whisky on his breath and a broken bottle in his hand.

The show runs at Arden Hall, Water Orton Road, Castle Bromwich, Birmingham from 25 July to 29 July 2006.
06/4/06
ZRock was a great sucess.. Tony was with WinterStrain for the second half of their set singing backing vocals and SHY recorded their Live album!!
ZRock pt 2 will be on 24th Sept 2006..As SHY and WinterStrain have now played ZRock then we wait with fingers crossed to see if The Andersson Mills Project accept..
Latest...31/03/06
The Z-rock gig is being recorded for a live CD on the 2nd April 2006.
Tony Mills said when asked about a SHY DVD?
"There is a DVD in the process of manufacture, and clips throughout the years will shortly be available from the Shy website. If everything goes according to plan, then there will be a commercial DVD available this year of the bands live and studio exploits.
The Firefest concert at Nottingham was recorded for a live album too, but nothing has happened with that as yet. Also a live concert from SIAM in Birmingham in 1995 has come to light and we are looking into releasing that."
Great News!!!!!
March 06
I have now heard the title track of Crank it up! It is awesome!! If the rest of the album is similar to this track then it will be too hot to handle!!! Fantastic..
The Andersson and Mills project will be touring the UK & Sweden!
Crank it up! - due for release 12th June 2006...
Siam - Prayer will be reissued on the 25th April 06 due to demand.
TONY MILLS SOLO LIVE DATES:
Tony Mills will appear on the Polar Rock Festival Storsteinnes northern Norway on July 1/2 this year!
Tony will be featuring material from his solo albums,Siam, and even a few SHY songs, and for this special occasion WinterStrain will be his backing band!!

.. At the same time he is hoping to record backing vocals for the new WinterStrain album..

6th Feb 2006
Tony Mills and the Sweet Part Company...
Read statement from Tony Mills on the Sweet page.
News.....13th Jan 2006
Fantastic News..
Tony Mills joins The Sweet
and will be heading off on a world tour on the 27th Jan...!!!
News.... 1st Dec 2005
Z Rock 2006 ...
On the Z records website they have just announced that :
"Shy have told us today that their set will be 1 hour 50 min and it will be recorded for possible release by Z."

News
Tony Mills
has extended his contract with Z Records to include an out-and-out AOR release, tentatively due in April 2006.
Commented Tony:
"As current product that I've written is on general release now through Z Records, I have been approached by the Z crew to write an AOR album for release next year. I'm more than happy about this new contract and have begun compiling the songs already. I will be co-writing with many rock artists over the coming months, some of whom are listed here.... Mike Cheshire, Tor Talle from Norway, HARDWAY from Brazil,
Eric Ragno
from L.A.,
Michael Riesenbeck
from Holland, Joe Basketts and Ian Richardson from SHY, Mark Stuart from Mad Hat Studios, Anders Johansson from Sweden, and hopefully Tony Clarkin from MAGNUM, although that remains unconfirmed at the moment through MAGNUM's touring commitments.

"I will sit hard and fast in the AOR mould and will be writing songs in a style that I'm used to. Z Records will keep you updated on my progress and hopefully I'll get to meet followers of Z's product at the soon to be announced Z Rock festival 2006. Keep you posted!!!"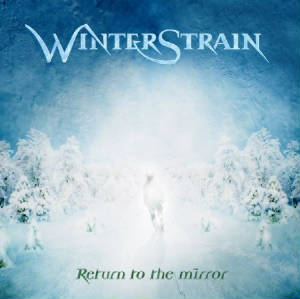 21st November 2005
Today is also the release date of WinterStrain's first album - Return to the Mirror (released world wide). Tony Mills sang backing vocals on this fantastic album and also worked to promote the release of this album. On Winterstrain's site it looks like Tony has agreed to work on the second album with WinterStrain... Some of this work may be taking place in Norway...
WinterStrain will be playing Z Rock on 2nd April 2006.